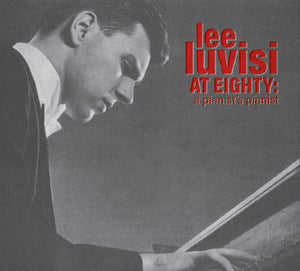 [reduced] $5/mo. Sustainer Gift - Lee Luvisi: At Eighty CD
Tax included.
Shipping
calculated at checkout.
---
---
Sustaining Members* who contribute $5 or more each month can select this newly released CD of Louisville pianist Lee Luvisi as part of your membership. Celebrating his 80th birthday, this recording is a retrospective of his career with newly remastered recordings from 3 decades of his career.
Lee Luvisi at 80: A Pianist's Pianist
1 Johann Sebastian Bach: Capriccio on the Departure of His Most Beloved, BWV 992 (11:19)
Wolfgang Amadè Mozart: Piano Sonata in F major, K. 533/494 (21:23)
2 Allegro (7:47)
3 Andante in B-flat major (7:09)
4 Rondo: Allegretto (6:43)
Ludwig van Beethoven: Piano Sonata No. 26 in E-flat major, Op. 81a (17:35)
5 Das Lebewohl (The Farewell) (7:37)
6 Abwesenheit (The Absence) (3:52)
7 Das Wiedersehen (The Return) (6:33)
8 Frédéric Chopin: Barcarolle, Op. 60 (8:58)
9 Gabriel Fauré: Ballade, Op. 19 (version for solo piano) (14:20)
Recording dates and locations:
Bach & Fauré: Kentucky School for the Blind | 1978
Mozart: University of Louisville Comstock Hall | 1990-1991, Mozart Bicentennial
Beethoven & Chopin: Inaugural Concert, University of Louisville Recital Hall (now Comstock Hall) | September 11, 1988
This
Sustainer
"thank you" gift is offered at no additional charge as part of a Sustaining Membership contribution. One gift per calendar year only, please.
Already a Sustainer? Add this gift to your cart at no charge. Not a member of Louisville Public Media? Click here to join and select your gift  at that time.